A Quick Bio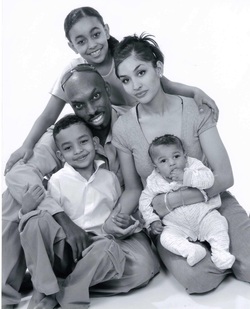 My Family:
I am married with 4 beautiful children, we have a large extended family and try to be around them as much as possible. I am also a Christian with a very strong faith and it is a big part of my life.
Primary Residence:
Essex, UK
My Market
Anyone who is serious about changing their financial lives and wants to work from the comfort of their home.
Favorite Business Books and Authors:
"The Bible" by God
"Rich Dad Poor Dad" by Robert Kiyosaki"
"24 keys to success" by Paul J Meyer
"Endless Referrals" by Bob Burg
"The Business School for people who like to help others" Robert Kiyosaki
My Top Six Values In Life are:
God
Family
Love
Integrity
Success
Freedom
Favourite Part Of My Business:
Being able to live life on my own terms and not being dictated too by a boss.
Least Favourite Part Of My Business:
Wasting time with people who are not serious about their own success.
The Very Best Thing About Having A Network Marketing Business Is:
Having no restrictions, I can do what I want, when I want, where I want.
Favorite Quotes:
"Do not settle for GOOD, because GOOD is the worst enemy of BEST" Pastor Dennis Greenidge

"Success is nothing more than a few simple disciplines, practiced every day, while failure is simply a few errors in judgment, repeated every day. It is the accumulative weight of our disciplines and our judgments that leads us to either fortune or failure" -Jim Rohn

"If you think you can or you think you can't you're probably right." Henry Ford
We currently earn a very nice income working from the comfort of our home. 

Once you get used to the commute, it's very hard to go back to an office : – ) . 
For me, it all started when I was made redundant from a middle management position in a company that pursued me for 12 months, to try and headhunt me into their organisation. I was responsible for a team of business developers and had to deliver projects on time and to budget.
After my redundancy I started to look at things differently in regards to my future financial position. What struck me was, as long as I worked for someone else, I would never be in control of my financial future, no matter how much money I earned. Therefore I started looking at business opportunities that would allow me to work from home.
In my search I was introduced to the company I now work alongside and it has proven to be one of the best decisions I have ever made. Working alongside this company allows me to help nourish people on two levels, within their finances but also within their time. So every dollar or pound I make reflects a life that has been impacted for the positive. I cannot see a better way to develop an income.
The strength behind my success has definitely been through the mentoring and support I received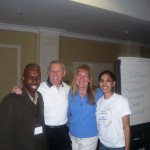 through a proven and tested system. I had previously tried other home businesses with little or no success. Now I am not saying it was because those businesses were bad, I want to make it quite clear, the reason I failed was because I QUIT!
However, because I knew working for myself was my destiny, I never stopped looking. After plodding through tons of information about companies and programs, I came across a company I felt I could trust, with the mentoring I needed to be successful. Well I couldn't be happier with the results.  I've been able to cultivategreat business relationships with some Incredible Achievers in this business, ranging from six to Seven Figure earners!
Personal History
I left school at 16 with very few qualifications and went to college (in the US it is the equivalent of High School), simply because I was not ready to get a job. I got most of my qualifications at college, and to my surprise I was given an unconditional offer at a university to do a Higher National Diploma in Business Studies.
So because I still did not want to get a job, I accepted and went to university.In my first ever lecture, I thought, "OH MY WORD! What have I done, there is no way I am going to get through this!"  (Sound familiar?)
Well, I went to my lectures over and over again, (The mother of all learning is repetition), and learned what I needed to learn and 2 years later, I obtained a Higher National Diploma (HND). Based on these results, I got accepted onto a degree course for Business Studies and Marketing. In my first lecture of my degree, I thought again "

OH MY WORD!

What have I done, there is no way I am going to get through this!" (Sound familiar again?), but again, through repetition, I was able to learn what I needed to learn and 3 years later, I was able to walk away from that university with a BA Hons Degree. 
You see, I never thought I would be able to achieve something like that, but because I continued to follow directions and be taught, I was able to achieve something that seemed impossible.
A New Outlook

Most people are taught to go to school, get a good education and go get a good paying job with benefits, but through this industry I discovered
 there was a world out there that paid you on your performance and desire, not your education or seniority.  It's up to me and no one else. It was because of the entry into this new world that
I started reading and absorbing an incredible amount of information from great success philosophers such as Napolean Hill, Zig Ziglar, Dani Johnson, Tim Sales, Larry Thompson and Jim Rohn to name but a few. I learned that a positive attitude is key to any success in life.
"What the mind of man can Conceive,
and Believe, he CAN Achieve."
Napoleon Hill
This opened my mind to the point that anything that I wanted was out there.  I just had to focus on what I wanted to achieve and believe in myself,  do the work and it would come.  Well through my career I've always continued to learn and then I came across Robert Kiyosaki.  This lead to the next great paradigm shift in my life.  What I learned was that a job was not the way forward and also that being self employed, running a traditional business, just meant that I owned a job.  I also learned that the secret to great wealth is Passive Income.               
Passive Income
Earnings an individual derives from a rental property, limited partnership or other enterprise in which he or she is not actively involved.
I thought I was doing pretty good, but, upon deeper reflection I realized Robert Kiyosaki was right.  If I didn't work, or something happened to me, my income would be gone.  That's when I started to shift my thinking and started to look outside of my job.
You see, I understood that if I were to build a business from home that would give me a Passive Income, I could start pulling myself away from someone else controlling me financially, allowing me to spend more time with my family.

"If you want to learn something new, you must surround yourself
with those that are already achieving what you want to achieve".
No Better Time Than The Present
If I was serious in becoming successful in this new world of Home Based Business then I had to first find a company I could believe in, with a product that I would personally always want to use. I would then need to surround myself with the people that are thriving in this industry and learn everything I possibly can from them.   It's amazing, when you know what you're looking for, you are more likely to find it.  I started my search and was able to find the mentors I needed and the company I am now with. If you hang around the people you want to become then it just seems to happen.  Without even trying you end up in the circles you want to travel in.   When I started truly focusing on what I wanted to achieve in this new business that's when everything started to happen. That is when I started forming very strong and successful business relationships.
"When the student is ready, the teacher will appear"
I focused on what I needed and believed I would find what I was looking for.  After making up my mind to do this I began to be connected with mentors I was looking for.  With their help I am closing in on building my income to a level that has up until now eluded me.  I am working with a couple who are the biggest achievers in this business and have become great friends with them.
I reached my goal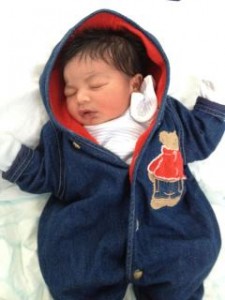 My wife and I were blessed with our fourth child, a healthy baby boy Josiah.  I am proud to say that I had spent all the time I could with her and my family not having to worry about going back to work.  I have taken back the time I used to give to someone else, I can spend time with my family without having to watch the clock and I can work as much or as little as I want to.  I am creating a very solid Passive Income and loving life more than at any other time in my career.
Now that I am receiving and profiting from this guidance, I am passing on this great knowledge to others who are looking to better their lives as I was.  I am committed to working with individuals who  want more out of life. Individuals who are tired of their 9-5 or stressful jobs. Or maybe folks, in a business that you own or I should say, that owns you.
What's The Secret?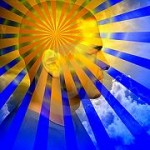 I
Very simply… this is about helping people. If you can become a master at this, then you will never have to worry about your finances again. What I mean is if you can help enough people get what they want, you will never have to worry about what you want. So this is about understanding people's needs and helping them to meet their need. This is not just about selling products or services. Starting any business is going to cost you something, Yes, there is a cost. Whether the cost is time or money, there is always a cost.
What you want to be, is conscious of the returns you're receiving from your efforts.
The trap that many fall into, as I alluded to before, is that they run out of money before they figure out what works best. This is one of the biggest reasons that you should always go into a new venture with someone who is already doing what you want to do. They can provide the help and guidance that can make the difference between success and failure.For those who join me in business, I offer my knowledge and education in this extremely important arena.I am also available to be your mentor, if you would like. I know that if it wasn't for mentors in my life I would not be where I am today. Anyone can show you how to sign on the dotted line or buy this or buy that, but if you're looking for a genuine mentor or coach who will support you in your new business, please give me a call. I'd be honored to help you in this incredible journey.